Find the perfect class for your champ. Children as young as two and half years old are welcome to join our classes. Looked after by our qualified coaches, kids learn essential ball skills that'll pave the way for a lifelong love of sport. Every child is encouraged to progress at their own pace, and as they move from the Busy Sports Programme to the Mini Sports Programme, they build fitness, teamwork and self-confidence!
Busy Sports
Ages: 2,5 – 5 years
This programme is designed to prepare children for Primary School sport by using positive teaching methods, creativity and specialised equipment and exercises. It is not only for talented mini stars or for children with coordination problems, but caters for all children of all ball skill levels.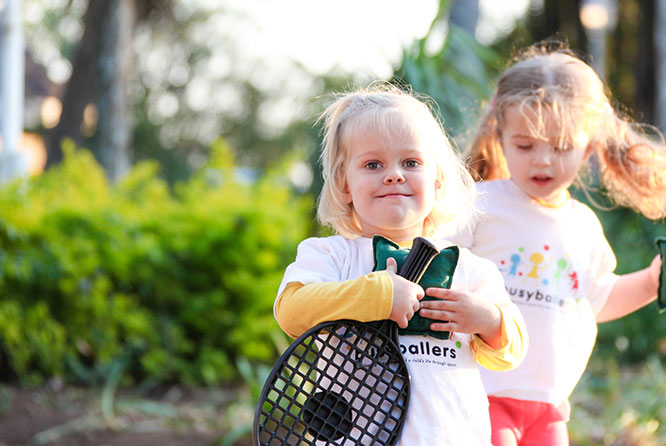 Busy Tots
Ages: 2 ½ – 3 years
Teaching and encouraging children to follow the coach's instruction (with plenty of giggles along the way!)
Developing your child's concentration and attention skills by encouraging him or her to persevere with a single task in a time period, long enough to learn.
Developing your child's independence and emotional maturity so that they'll be eager to participate in all the activities!
Busy Kids
Ages: 3 – 4 years
Developing large muscles and coordination (hand-eye and foot-eye).
Developing your child's self-image and good posture.
Strengthening muscles and developing agility, balance and movement.
Teaching children to become aware of their body parts and physical abilities and limitations.
Helping children to understand that their body has two sides and two planes; left and right, top and bottom.
Teaching children to move each side of the body independently of each other.
Establishing dominance and discovering which side of the body is preferred, left or right.
Developing independence, confidence and emotional maturity.
Developing listening skills by following instructions.
Developing perseverance – learning to concentrate by focusing on a task for increasing periods of time.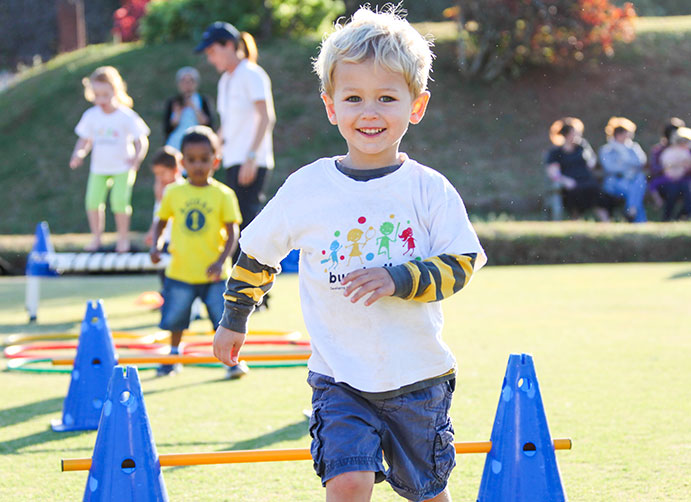 Busy Buds
Ages: 4 – 4 ½ years
Offering a warm, caring introduction to pair work and team work.
Leading fun, creative games, all with specific objectives, which give your child the opportunity to learn many basic skills in a non-threatening and non-intimidating sporting environment.
Developing confidence, concentration and independence as well as social skills.
Crossing the mid-line, spatial orientation and perception skills.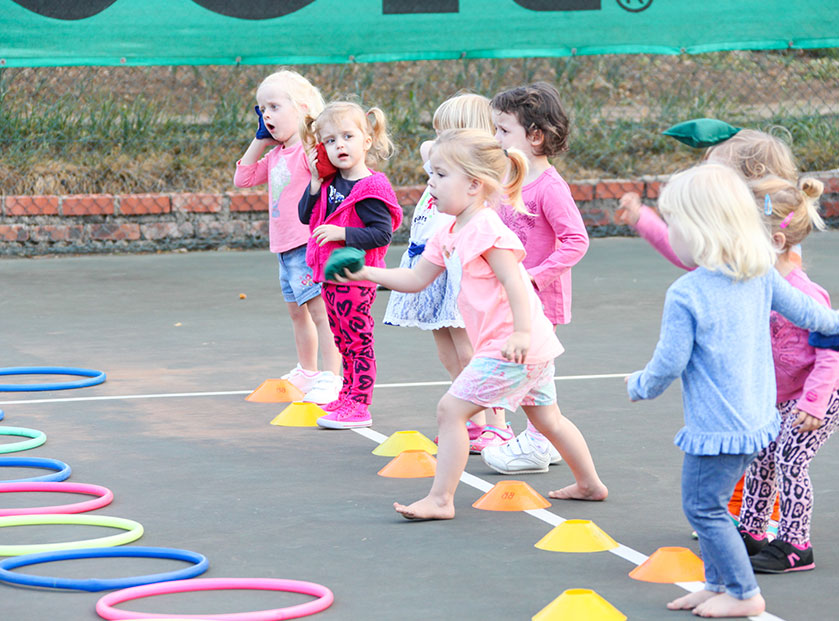 Busy Crew
Ages: 4 ½ – 5 years
Progressively and systematically developing your child's physical competence.
Developing a broad base of individual skills on which to build within a team scenario.
Giving your child the opportunity to participate in a positive and unintimidating sporting environment.
Developing your child's emotional well-being. This includes building self-esteem, overcoming the fear of failure and learning to persevere.
Developing social skills e.g. communication, tolerance, teamwork and leadership.
Teaching the basic skills needed for the sports that we focus on in the mini sports programme.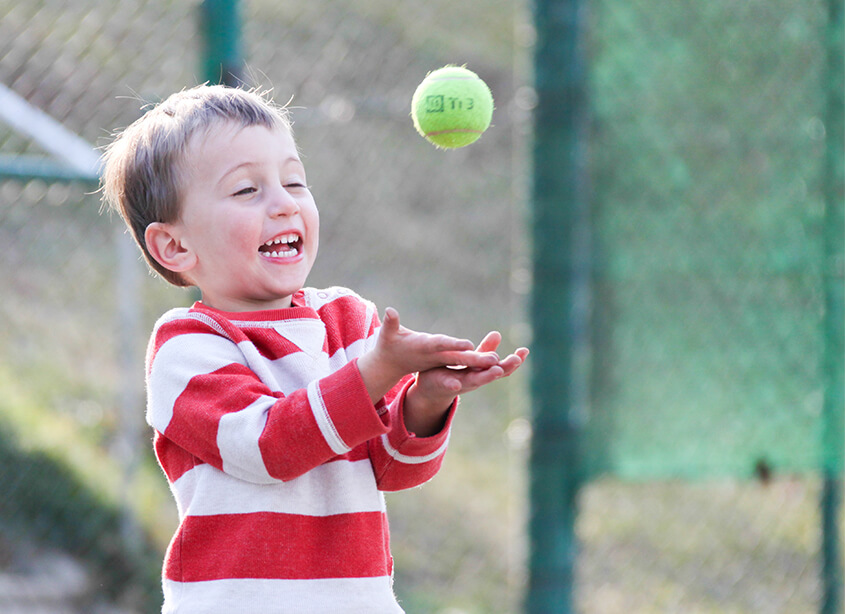 Mini Sports
Ages: 5 – 9 years
This programme is designed to enhance any other sports training or coaching that your child may already be receiving – or have received in the past. Ideally, we want your child to enjoy learning a variety of sports, and have the knowledge to develop their game after they've completed the programme.
Benefits of the Mini Sports Programme
A positive, stimulating introduction to sports participation.
Social interaction and communication.
Development of leadership qualities.
Development of teamwork and cooperation.
Developing confidence, physical ability and endurance.
Learning about Sportsmanship – that winning isn't everything.
Mini Stars
Ages: 5 - 6 years
Introducing a range of team sports: Hockey, Soccer, Baseball, Cricket, Rugby, Netball, Basketball
Incorporating all the skills developed in previous Busyballers programmes into the team sports covered in the programme.
Teaching specific skills needed to play the game and an introduction to basic rules of the game.
Emphasising that the beginner's stage is about "playing the game".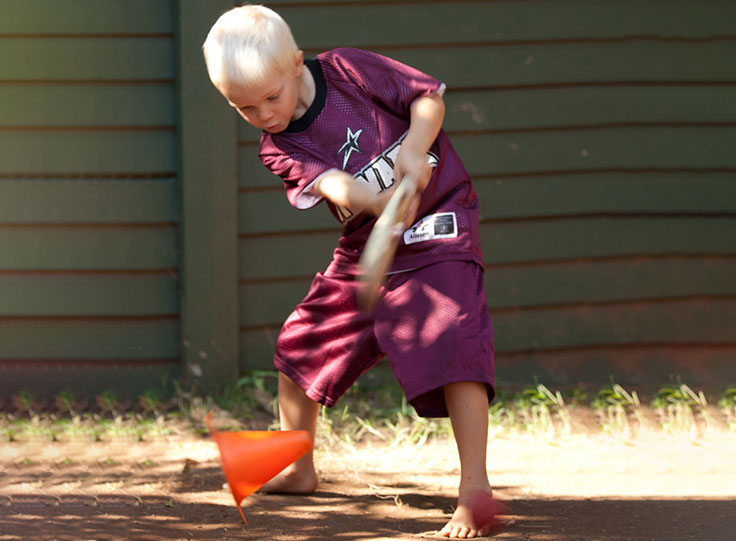 Mini Champs
Ages: 6 - 9 years
Developing your child's general competence as they learn even more about the sports covered.
Technical application of the skills learned in the Busy Stars stage.
Involving your child in drills and various positions of the sports.
Teaching the importance of technique and teamwork. Increasing your child's understanding of the rules and structure of the game.
Physical fitness relating to sport. Encouraging competitiveness without forgetting the essence of sportsmanship!